Fly Tying Yellowstone Area Hatches
Anglers that visit the Yellowstone region for the first time usually make their first stop at their favorite fly shop. Just one look inside the shop will give you a hint of the overwhelming surplus of available flies. There are literally thousands of patterns an angler must choose from to fish a particular hatch for a specific body of water. The fly fishing experts who live and work these waters can keep a "secret" only for so long before word gets out about the best, most consistent patterns. Craig Mathews, John Juracek and the folks at Blue Ribbon Flies have refined their best of the best flies so visiting anglers have an easier choice amongst the sea of fly bins in every fly shop.
Fly Tying can be considered an art, a hobby, meditation and a job. I like the idea that it's a necessity. If you spend a lot time on the water and are proficient and lucky enough to catch your quota of fish, you will need an assortment of flies. Often fish will break you off when fighting or releasing. Poor casting, tight habitat and windknots can cause breakoffs. You will realize that cast after perfect cast, certain fish become very selective and your only option through this associative learning is to change your fly to something they'll want and it may not be available at any flyshop. Yes, it's true, as crazy as this sounds, amongst the hundreds of bins and thousands of flies, you will need to tie a better fly. Process of elimination dictates it's not the cast, it's not the leader or tippet and refusals are telling you to change something about that fly. For hard fished waters and difficult fish you have the option of moving, cast to a different fish or create a fly that works. This is the real beauty with fly tying. Sometimes you just can't buy a fish.
Some of these videos are from our popular "Fly Tying Yellowstone Hatches dvd ". If you own the dvd, you already have these videos. This dvd is now out of print however the good news is you can now purchase an immediate high quality download of the tying videos. These are encoded with the latest Mpeg-4 format and can be played with the latest Quicktime or Windows Media Player. If you can click and play our Green Drake Emerger Demo then you will be able to play any of our purchased downloads. All videos are at 480x360.
Fly Tying Video Demo - Green Drake Emerger
Actual Size (480x360)

Fly Tying Video Patterns:
Please Note: These video downloads are only delivered to customers with Cable Modem, DSL, Broadband and T1 speeds.

---
Antron Caddis Pupa - The Antron Caddis Pupa is a beautiful and effective pattern. It simulates the emerging caddis and can be fished at any depth or in the film. Due to the sparkling nature of Antron, fish can see this in most lighting conditions. The Antron Caddis Pupa is a great alternative to tying Deep Sparkle Pupa as Craig demonstrates, it is a very easy tie. In any case, be sure to have a caddis pupa imitation especially if your planning a trip to some of the great caddis waters of the west like the Madison River.
---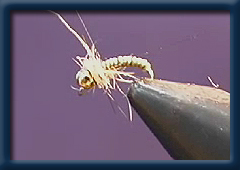 Beadhead Serendipity - The BH Serendipity is one of the first flies to rig up when nymphing for trout. Anglers who prefer a 2 fly rig will use this as one of the droppers. It imitates the caddis pupa and in smaller sizes will work as a midge pupa. As Craig demonstrates, the serendipity style utilizes the twist and wrap tying technique often associated with a segmented body. Craigs Serendipity was the first commercial success of this caddis pupa imitation and trout inhabiting fast moving waters have paid dearly. When tied correctly, this is a very durable and deadly fly pattern.
---
Bonefish Bitters - If you fish for Bonefish and haven't tried this crab pattern, then maybe it's time to consider trying something different than your Crazy Charlies. Finally, this is crab pattern that you can easily tie. Craig developed this pattern by his great sense of observation and imitation after a few years of bonefishing the flats in Belize. The beauty of this crab imitation, along with an easy tie, is how easy it is to cast. The pattern works best when fishing shallow bonefish flats.
---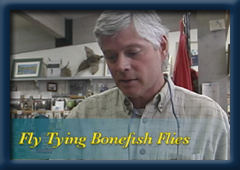 Bonefish/Permit Materials - Craig Mathews showing you all the great new materials available these days to tie the latest innovative saltwater patterns. I nice video on how to select the proper materials and what to look for.
---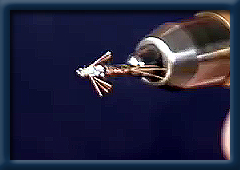 Callibaetis Nymph - When fishing a prolific Callibaetis lake such as Hebgen Lake, the angler needs all the advantages they can get. To be honest, a Pheasant Tail nymph is as good as it gets, the problem is they just don't last and when the protruding fibers begin to show, selective trout will definitely refuse it. This pattern is the most deadly Callibaetis nymph imitation to use. You can tie it with or without the mylar, however the mylar only helps to get the fishes attention. It simulates a splitting gas bubble as the nymph tries to emerge through the surface film. Try this when the wind chop picks up because that's one of the primary trigger conditions when the Callibaetis like to emerge.
---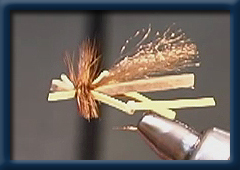 Chaos Hopper - This hopper imitation was developed off the vise of fly tying master Rowan Nyman when he was with Blue Ribbon Flies (Rowan now manages the fly fishing outfitting for the upscale Firehole Ranch on Hebgen Lake, Montana) Rowan is still one of the main fly tyers for BRF. This hopper pattern is fairly easy to tie, it's practically unsinkable and has good motion in the water. Pretty much everything you want in a quality hopper imitation. The way Rowan ties it, makes it look actually fun to tie.
---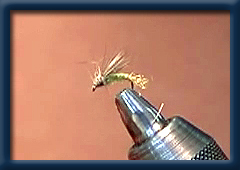 CHC Caddis - What we like about this caddis imitation is it gives the angler that extra dry fly option for those difficult caddis emergences. Though it's probably hook shape more than anything else. This pattern derives its name from the use of Caribou hair. It is also a low riding caddis imitation which may explain why this pattern will work when the standard Elk Hair or X Caddis won't
.
---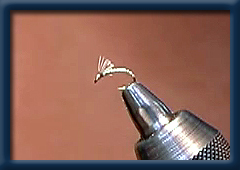 Crystal Serendipity - Not just any old Serendipity pattern. This is one of the best caddis and/or midge pupa patterns an angler have. It is extremely easy to tie which is good news since trout really abuse this pattern. Because this pattern is so effective, we highly recommend you learn to tie this unless you can afford to buy a few dozen per outing. Also be sure to tie a bunch with a rusty brown thread (aka $3 Bridge Serendipity) instead of the crystal flash.
---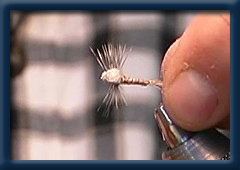 Foam Spinner - If you're not a big fan of using mayfly spinner imitations because you can't see them then you're losing out on a great dry fly opportunity. Granted most spinner imitations are very difficult to see even when fishing flat water spring creeks. Here's a great solution that you can tie and use with confidence. This foam spinner that Craig Mathews ties utilizes a thin strip of colored foam that not aids the visibility but helps with floatation. A must have for any spinner fall. For anglers fishing probably the most prolific callibaetis spinner lake in the world, Hebgen Lake, where an Adam or other parachute pattern gets refused, you must have this spinner imitation for those ultra selective feeding fish.
---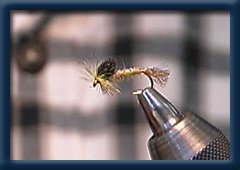 Green Drake Emerger - We're always baffled when a large rising trout refuses a big drifting Green Drake. After many refusals, you switch to a PMD imitation (since they often coincide) and NOTHING not even a nudge. You see huge splashing rise forms (and they're not Seagull droppings) but your getting frustrated. Now's the time to go the Green Drake Emerger. This pattern will often work when the large adult imitations won't. Very easy to tie.
---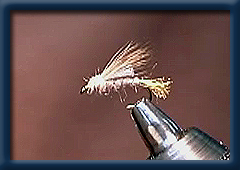 Improved X Caddis - This is the premiere adult caddis imitation especially where the tan Hydropsyche or smaller amber Helicopsyche species of caddis are abundant. In this video, Craig Mathews provides step by step instructions on how to tie the Improved X Caddis. Do you ever find the Elk Hair Caddis hard to see? This pattern is very easy to spot and we believe out-floats most caddis imitations due to the "wing lift" of the added underwing. An excellent choice for the big riffle waters of the west. Perhaps a combination of being a master tyer, extra time on his hands, knowing the value of this fly, or just being a bit obsessive, Craig keeps a special fly box filled with a couple hundred X Caddis.
---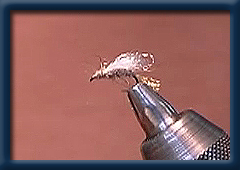 Iris Caddis - We have mixed feelings about the Iris Caddis. Not because it's ineffective, in fact quite the opposite. This is a pattern where you tell someone to use it and somewhere, sometime they ask you again "what are you using?":. Personally I tell folks one time and that's it. The Iris Caddis is extremely easy to tie and the key to this fly is its simple caddis-like profile and how low it rides in the film This fly was invented by our friend, the late Paul Brown and we're glad he shared. Ok we'll say this just one last time , buy this video or buy this fly.
---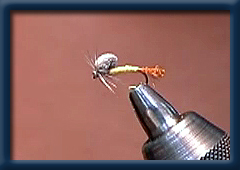 PMD Emerger - More often than not, we will come across a difficult circumstance where rising trout keep refusing our imitations of different mayfly stages. This Pale Morning Dun pattern is a beautiful tie and quite effective for PMD's stuck in the film or when they're so many emerging that trout won't even look at your mayfly imitation. Craig once again utilizes foam as an emerger ingredient. For anglers that have an assortment of mayfly duns and nymphs, be sure to add this fly pattern to your arsenal.
---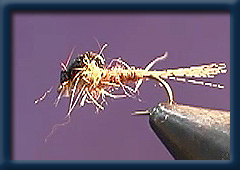 PMD Nymph - Anglers that regularly fish a PMD hatch are quite often successful using a generic PMD nymph imitation such as a Pheasant Tail, Zug Bug etc. Consider Craigs PMD Nymph imitation where trout are very selective such as the slower spring creek waters where Pale Morning Duns are so prevalent. Trout have more time to inspect drifting bugs in the slower flows of a spring creek or any slow moving river. This imitation is an easy fly to tie and well worth including in your mayfly selections.
---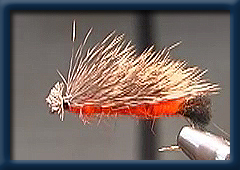 Sunken Stone - No not drunken stone, Sunken Stone. This fly pattern of the adult Pteronarcys Californica or aka Salmon fly is as good as any out there - in fact it is the best adult stonefly pattern made. From the vise of expert fly tyer Nick Nicklaus, this imitation will out-everything all other salmon fly patterns even when half drowned.....err sunken...Rowan expertly takes you step by step in this video on how to tie this pattern born from the famous waters of the Madison River.
---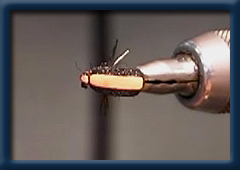 Tiger Beetle - A beetle imitation is one of those flies that most anglers don't prioritize until it's after the fact. It's a fly that anglers have to say "got an extra one?" Not in the same status as the venerable ant, the beetle must be considered if ants are in short supply. Perhaps its lack of respect comes from its elusive demeanor however more likely, is its diminutive ladybug-like size. After the summer super-hatches have subsided, is when the humble beetle shines and anglers get caught without. The Tiger Beetle with its built-in indicator is a fun fly to tie and should be considered in every anglers terrestrial fly box.
---
Zelon Midge - Lets face it, as you get older, smaller dry flies are not too appealing. For years, most midge dry fly patterns, though effective are impossible to see. Well sorry to say this pattern is no different however it is better than most. The Zelon wings are a much improved approach compared to hair or crystal flash. With the use of Zelon wing and its bi-visible black and white color tone, you can surprising spot this tiny imitation especially on overcast days when midges are out.
---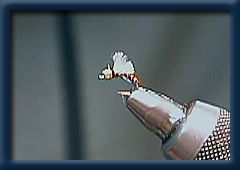 Shop Vac- A great generic nymph to be used when deciding what to use otherwise known as searching patterns. Thing is, this pattern is a go to fly for seasoned anglers. Often a great combo fly from a dropper. Fairly easy to tie and looks alone you know this fly has got to work. It has all the combinations that fish want. Pupa-like body and color, rib segment, overwing emerger effect, beadhead for depth and attraction. It's a winner fly design and fish eat it.
---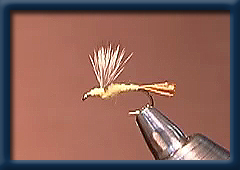 Sparkle Dun - If you like to fish dry flies during a mayfly hatch and you haven't yet used a Sparkle Dun, we have to ask "Uh - What?" why not. Someone's been keeping you in the dark. Even if you're successful with them patterns you've been using, this pattern will only make you better. When tied properly, it will match any mayfly hatch. The Sparkle Dun imitates an emerger and/or dun mayfly. It's simple and cheap to tie. From an underwater perspective, it's realistic silhouette is perfect. It's most appealing aspect is how its dual effectiveness eliminates doubt whether the fish are on duns or emergers. In this video, Craig ties his original Sparkle Dun. For the Improved Sparkle Dun, just add a some Zelon strands before the deer hair is applied
---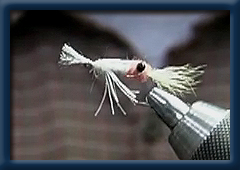 TDF Shrimp - This life-like shrimp imitation is easy to tie and comes with just enough crafty movement to persuade the most curious bonefish on the flats. A great compliment if you need more than a Crazy Charlie. In this video, Steve Hoovler ties the TDF Shrimp and shows its a fairly quick pattern to tie. We like the fact that there's no detracting strands of crystal flash which has tendancy of emitting a synthetic green flash that is anything but natural.
---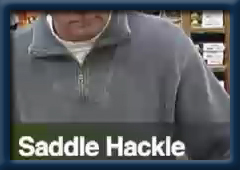 Trout Tying Materials - This is a good video on trout tying materials presented by Craig Mathews. Craig likes to use the latest most productive materials. As owners of Blue Ribbon Flies, Craig and Jackie Mathews have access to any legal material on earth suffice to say they know fly tying materials and in this video Craig goes over the best most useful material currently available including his favorites.
---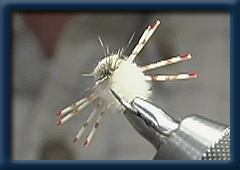 Turneffe Crab - If you fish the Merkins Crab pattern then you know your crab. Problem is, as a fly tyer, the Merkins is a bear to tie and cast. Enter the Turneffe Crab. Much easier to tie and cast. We believe it is just as realistic and certainly as effective. As with Merkins, you should different sizes, color and weight so you can use these for Bonefish and Permit.

---
Foam Beetle - One of Three terrestrial patterns an angler should always have in their fly box when fishing during the late summer months. Beetles can be found throughtout summer and is often used during slack periods between hatches. It is also a worthy fly to use in combination with a dropper such as a hopper, ant or caddis.
---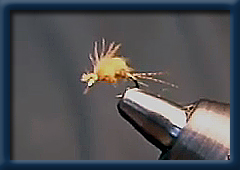 CDC PMD Emerger - It seems CDC is the perfect natural material for emerger imitations. Its natural repellent keeps the fly afloat but low-riding just like the naturals. Most anglers that are put off by CDC don't know how to correctly fish CDC patterns. Do not put floatant on the CDC and after catching a fish, immediately blot the feathers dry (blowing on it works about as good blowing on a bowl of scalding soup). So whenever you come across difficult fish, try a CDC. After catching a few fish, put on a new one.
---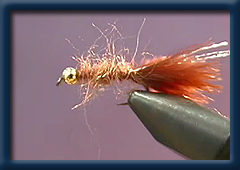 Beadhead Marabou Leech - If you only have a few "bugger" style patterns in your fly box, consider carrying a Beadhead Marabou Leech. It's a great searching pattern and when tied thin, replicates a leech, damsel, dragonfly or even baitfish. Some diehard lake anglers that fish sinking lines, only use this style fly. It's also a great pattern for beginners learning to tie flies.
---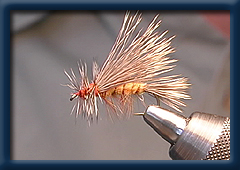 Stimulator - Two of the best all-around attractor flies you can have are the Stimulator and the Royal Wulff. The Stimulator should be used if it is caddis and stonefly season. The Royal Wulff can imitate mayfles and some terrestrials. When tying the Stimulator, be sure to have size 12 to 8 and switch to them when more exact patterns do not work.
---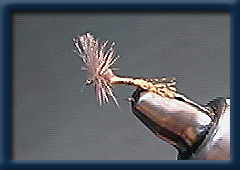 Mayfly Cripple - Anglers that get the opportunity to fish a lot of different mayfly hatches should be aware of the different stages of a mayfly. Besides having an assortment of nymphs, duns and spinners, you should carry emergers and cripples. Emergers are often called cripples, however a mayfly emerger often eventually escapes from its shuck to fly off into mayfly heaven. A cripple won't and in trying to emerge, causes quite a bit of attention the trout love to key on. Trout feeding on cripples often create a slower sipping rise.
---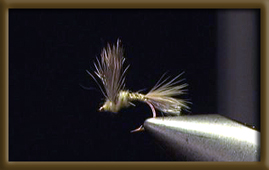 Improved Sparkle Dun - This is the improved version of the "must have" mayfly dry fly pattern, the sparkle dun. This version adds even more realism, visibility and floation. It's always best to have different versions of your "go to" fly and this fits the bill. I like the original pattern for spring creeks and stillwater and this version for the large blue ribbon rivers of the west. The extra steps are worth the little effort knowing that you have all the different water conditions covered.
---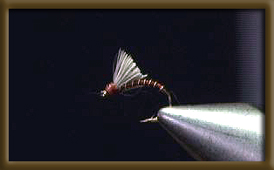 Three Dollar Serendipity - Have you ever had days on your favorite trout water when everything was right and easy? The fly pattern was perfect and you had one of your best days ever only to go back with the exact same conditions and zip, nada, no good. Same fly, same everything. So often is the case when I use a pattern like the Crystal Serendipity which doesn't quite imitate anything in particular but resembles everything. Often when a killer pattern fails, the trick is to vary it just so slightly and wham your back in action. The Three Dollar Serendipity is such a fly!
---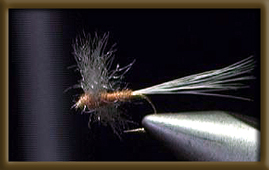 Epeorus Spinner - Recently within the last 4 to 5 years, the Epeorus mayfly has been the most predominant mayfly on the Madison River in Montana. No one can pinpoint why this occured perhaps it's a reflection of climate change but we fly fishers are experts at adaptation, why else do we carry an arsenal of fly patterns. The spinner fall of the Epeorus occurs during the evening and coincides with the Epeorus emergence. Instead of guessing riseforms it's best to carry both imitations of this major Madison river mayfly.
---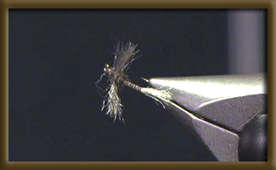 Improved Zelon Midge - Most experienced anglers carry that oddball or "secret fly" usually falling under the beetle, ant or Royal something category. Here's another one. The thing is, it's most underated. Midges are the primary food source during the winter and shoulder seasons of all clearwater rivers, stream and lakes that trout inhabit. Why do anglers hesitate to carry midge imitations? Because their mind says "I can't see it". The Improved Zelon Midge is meant to be tied and seen by both fish and angler - no strike indicator needed.
---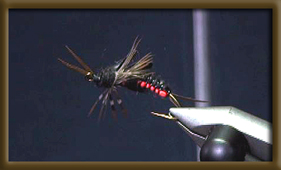 Mature Nature Stone - For those anglers that need to feel accomplished and tie a bug that actually looks like something, then here it is and quess what it really works too. The drawback is time. You don't think something this purdy is easy do you! The bonus is the snapshot of you, the monster trout and the Nature Stone hanging off its massive jaw. For those of you that think this fly is too fancy, then go back to your Yuk bug and chuck away!
---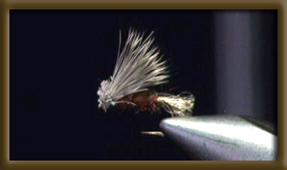 X Caddis - There are three maybe four dry fly caddis imitations that I can think of that a fly fisher must have in their fly box. The Elk Hair caddis, the EC caddis, the Iris caddis and the X Caddis any need for something more than you best move or go deep! The X Caddis has all the characteristics of a perfect design. It's fast, durable and most of all realistic. What I admire most in this fly pattern is it works in fast and slow water which tells me the trout approve.
---
White Miller Soft Hackle - For years, the dominant caddis on rivers like the Firehole and Madison in Yellowstone National Park, has been the Hydropsyche. However, just like the Epeorus mayfly, the Nectopsyche caddis is now the predominant caddis too appear. With its distinct mottled cream tan legs and sparkling light colored body, it is a favorite fly for many anglers that wish to fish this pattern subsurface or floating in the film. No need for indicators with this pattern, you can see it or feel it.
---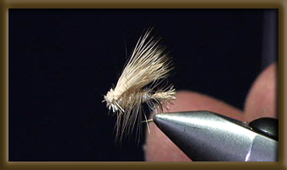 White Miller X Caddis - Just a slight variation of the X caddis with a bit more floatation. It matches the Firehole caddis too perfection but offers a bit more visibility for those anglers that have difficulty in seeing their fly. Like the White Miller Soft Hackle this is the dry fly version and seems too work best for the hatched Nectopsyche.
Download Video
---
"Buy a fly to fish and you may catch a fish. Learn to tie a fly and
you will catch many fish" - some really smart dude
---
Yellowstone National Park and it's many famous fly-fishing waters are sought out each year by anglers from all over the world. Having the correct fly patterns of Yellowstone is essential to your success. The fly tying category is a brief list of Yellowstone patterns.
It seems only natural that fly fishermen should be curious about insect hatches, and not just because a knowledge of them can improve angling success, which it most certainly does. More importantly, we should take an interest in insects because they are, after all, the root of our sport. Without them there is no basis for fly fishing.
The Yellowstone area has a long history of superb fly fishing for trout. Excellent aquatic insect populations are one factor that has contributed mightily to this fishing. An incredible wealth and diversity of aquatic insects thrive in the lakes and rivers here, and it is possible to find fish feeding on insects every day of the season.
There is surprisingly little information available on the insect hatches of this area in published fly fishing books. Much of what does exist is included in books which cover the entire country. By necessity the information contained in them is brief, and often of little value to fishermen concentrating on one area. Also, some hatches simply haven't been known well enough to have been written about. In an area as vast as Yellowstone it would take several lifetimes to assemble a complete list of all the hatches.
One note on insect names. If an insect has a commonly accepted name we have used it. If it does not (this pertains mostly to caddisflies, and reflects how poorly they are understood) we have used their real name, and yes, they're Latin. Many fishermen feel using Latin names is somehow akin to snobbery, but this isn't true. Since we have to call them something, and because it's just as easy to say Hydropsyche as it is to say "it was that caddis with tan wings and a brownish body in about a size #14 or #16," we have taken the Latin route when necessary. - Fishing Yellowstone Hatches - (Craig Mathews, John Juracek)
---