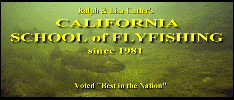 California School of Flyfishing - West Coast fly fishers are very familar with this school. The California School of Flyfishing - www.Flyline.com - is the premiere fly fishing school in the country. My good friends, Ralph and Lisa Cutter have been operating their school since they were born. Take out the "California" from this school, Ralph and Lisa have flyfished the world and are experts at any hatch or technique used around the planet.
---
Yellowstone Park Foundation

The Yellowstone Park Foundation is a non-profit organization created by a group of concerned citizens, working with the National Park Service, to preserve, protect, and enhance Yellowstone National Park and to enrich each visitor's experience. The Foundation funds projects and programs which that are beyond the financial capacity of the Park Service. Without your help these projects would go unfunded. The Foundation receives no government funding; it relies solely upon the generous support of private citizens, foundations, and corporations to ensure that Yellowstone's great gifts to the world will never diminish
Donations to the Yellowstone Park Foundation have made the following projects possible:
The restoration of the beautiful Mammoth Chapel which was the last building completed in 1913 during the U.S. Army's protection of Yellowstone and which is used today by many people for worship and wedding ceremonies.

A Pelican Valley Trail reroute to move the popular trail out of prime grizzly bear habitat and delicate wetlands and into an area that is safer for visitors, wildlife, and the surrounding habitat.

The first new film to be shown at the Old Faithful Visitor Center in almost thirty years, which is narrated by Walter Cronkite and interprets the rich geothermal life of the Old Faithful Geyser Basin.

The Yellowstone Youth Conservation Corps, which provides dozens of young people with challenging summer employment and the Park with the extra staff needed to complete restoration and preservation projects of Yellowstone's trails.
Yellowstone's natural wonders are at risk.
With this outstanding legacy, it seems unimaginable that Yellowstone's unique resources and ecological integrity might be at risk, but they are. It took 100 years for the first 50 million people to visit the Park, but just 20 years for the second 50 million to make the same journey. Today, as the pressures of an overcrowded planet continue to mount, Yellowstone struggles to protect its special qualities. Every year, projects are left unfunded that would preserve its natural wonders and ensure that each visitor enjoys Yellowstone to its full potential. But government appropriations are inadequate to cover the needs of this world-famous park. Every year, projects are left unfunded that would preserve Yellowstone's natural wonders and ensure that each visitor enjoys the park to its full potential.
Yellowstone National Park needs your help. It can no longer depend on federal appropriations, and the backlog of projects in Yellowstone is enormous. Yellowstone must turn to friends like you..
Please click here to visit our How You Can Help Page and become a part of protecting what is special in Yellowstone National Park - for all current and future generations.
The Yellowstone Park Foundation
37 East Main Street, Suite 4
Bozeman, MT 59715
406.586.6303